In recognition of its 175th anniversary, The Globe and Mail hosted a two-day forum focused on the future of Canada. Conversations among top thinkers and engaged citizens illuminated where Canada is now, where we are heading, and our place in the world over the decades to come.
Hosted By: The Globe & Mail
Event Planner: Trish Bunnett
Number of Guests: 200
Event Timing: 8:00AM - 6:00PM over two days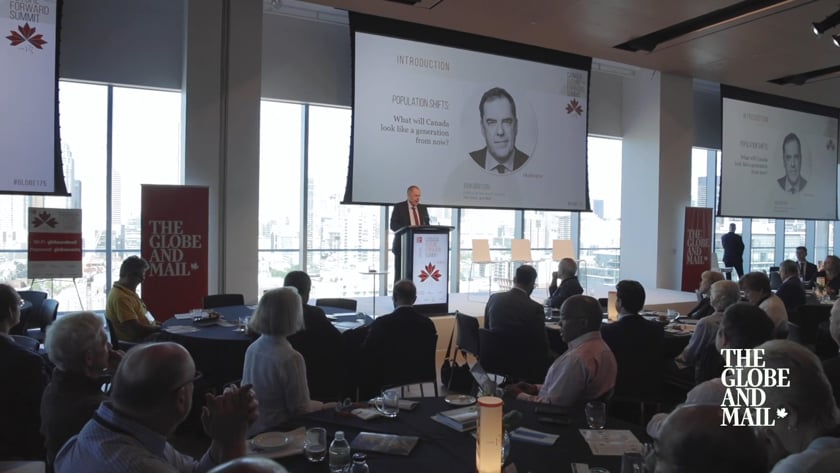 "Our entire company was immensely proud of this event bringing together an incredible program of leaders from industries across the country. A magical highlight was the larger-than-life newspaper banner hung from the ceiling featuring key headlines and moments in Canadian history, providing a breathtaking inspirational tribute to evolution of the paper into the digital era."
- Luis
DAY 1
6:00 AM – Setup
8:00 AM – Program Begins
5:00 PM – Cocktail Reception
6:00 PM – Guest Departure
DAY 2
6:00 AM – Setup
8:00 AM – Program Begins
4:35 PM – Cocktail Reception
6:00 PM – Guest Departure
Catering by Presidential Gourmet
Day One
BREAKFAST
Assorted Breakfast Breads

apple cranberry, banana, carrot pineapple

Muffins
Raisin bran, Fruit extreme, gluten free muffins also available
Blueberry Pie Overnight Oats
Cheese Croissants
Protein Power Balls with Dates, quinoa, flaxseed, nut butter, cocoa
Bacon Devilled Egg with sriracha, scallion
Mustard and Chive Devilled Eggs
Season's Best Fruit Platters
White Wine: Mezzamondo Pinot Grigio, Briccotondo Gavi
Red Wine: Henry of Pelham Cabernet Merlot, Tawse Pinot Noir
Beer: Budweiser, Bud light, Labatt50, Corona, Michelob Ultra and Stella Artois courtesy of Labatt
All day Coffee, Tea, soft beverages and juices
A Day Conference presentation package with screens, projectors, staging, podium, microphones, digital signage and the specialty rigging and digital components of the 175 banner installation
Candice & Alison - Newspaper Banner